Sports Performance Enhancement
It is now universally accepted that your mental game is of equal importance, in fact, more important, than the physical side of your sport, regardless of whatever that might be.

The research studies now back up the fact that mental rehearsal increases self-efficacy in many areas of sport and performance. Many elite athletes now have mental coaches who incorporate elements of psychology, NLP and hypnosis, to mentally prepare, or directly employ the expertise of an experienced sports psychologist or hypnotherapist as part of the coaching strategy.

Some really well known athletes have used hypnotherapy, such as Andy Murray, who said he had hypnotherapy prior to winning Wimbledon for the first time.

Tiger Woods, Andrew (Freddie) Flintoff, Mike Tyson, Nigel Benn, WBC Super Middleweight Champion and Frank Bruno, WBC Heavyweight Champion all used Sports hypnosis to increase their performance.

In fact it used to be known as the athletes ultimate secret weapon.....although it isn't really so secret anymore , with most of the top athletes employing the techniques.

Using hypnotherapy for sporting performance can mean the difference between winning and losing.
However it isn't just top athletes using mental coaching....anyone with any kind of performance could benefit. If you are spending hours working on your physical performance, it would seem ludicrous not to also work on the other 50%....your mind.

Mental training is one of the most essential elements to achieving optimal performance, and one that is too often underestimated.

The brain can't distinguish between doing something or imagining doing something so visualising winning a competition can help tune your mind for success. If the human mind is capable of imagining something, it's capable of making it happen.

Our mental attitude towards sports in both competition and training is the difference between just competing and ultimately winning. This is why most top athletes now have mind coaches who work alongside their other coaches to help them reach their true potential.

Sports Hypnosis differs from Sports Psychology in that it works directly with the subconscious part of the brain - the part that controls our behaviour, so it can often be a quicker and more effective than traditional psychology. This means you can retrain both the conscious and unconscious parts of your mind simultaneously to be more focussed and more motivated.

Using a winning combination of the latest cutting edge techniques in sports psychology, along with motivational coaching Hypnosis, NLP modeling and Cognitive Therapy to work on pre-performance set up and performance enhancement can:

Improve your confidence and self-belief
Remove your negative thoughts or beliefs
Increase your motivation and dedication
Maintain your composure and overcome distractions.
Overcome the 'mental blocks'
Enhance your endurance
Prepare you for competing

The greatest athletes in the world are at the top of their game because they have the intense focus necessary to succeed.

So whether you're a professional sportsman or a high achieving enthusiast or simply someone who plays regular sport but just wants to be better, or you need the level of focus to help you find the zone, and are looking to enhance their experience and enjoyment, these techniques can give you the edge.

If you are having trouble staying focused during competition? Lacking in confidence during practice or games? Seem to perform better in practice than in competition? Are looking for a competitive edge? Have you lost confidence or motivation after an injury, or are you just looking for a way to improve your performance? The get in touch today.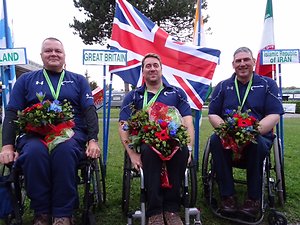 Team GB - Italy September 2017
Dear Sarah
Just returned from Lonato Italy from the 1st Para Sport Shooting World Cup & happy to say the seated team I was in secured Gold. The work we did together has paid dividends & I'm so pleased that I now have the tools to ease the nerves & allow myself to perform.
Thank so much & look forward to working with you during the build up to my next major competition Very best wishes Alec

Alec Sperling
Team GB - Italy September 2017